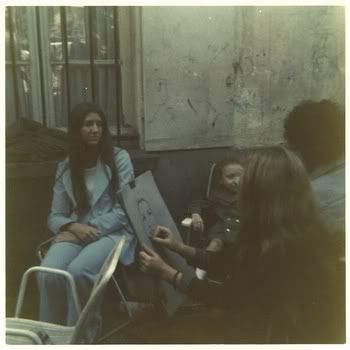 Time for some friend music! I've known today's artist--Eugene, Oregon-based singer/songwriter Tyler Fortier--since we were both about five years old, having both grown up in Camas, so it's always a pleasure today to track his continuing path as an artist and a special pleasure to feature an album of his here on the blog.
Bang on Time
is Tyler's third release of 2011, following February's
...And They Rode Like Wildfire Snaking Through the Hills 'Neath the Scarlet Sun
and April's
Fear of the Unknown
. The fact that he managed to even find time and energy to write, record, distribute and tour behind three releases (let alone take the care to give each album a discrete identity) is hard to imagine, yet here the evidence is for us to enjoy.
One thing we songwriters and musicians hate to hear is that we've improved or gotten "better"--there's no quicker way to backhandedly dismiss a creative legacy that took years and an immeasurable amount of personal investment to create. When I say Tyler has improved, I mean that he's progressively honed the aspects of his music that have been there making his albums great since the beginning--he's become more assured as a vocalist, his artistic vision has become clearer with each release and, most importantly, his craft as a songwriter has reached a level of nuance that pushes it well past what many working musicians are even capable of.
Tyler introduces
Bang On Time
as stripped-down and lyrically-driven; while I'd hesitate to call the arrangements stripped-down (songs often feature several acoustic instruments, three-part vocal harmony, and there are a few string arrangements), the mood is certainly more contemplative than the rock arrangements of
Fear of the Unknown
. The lyrics are indeed the centerpiece, with the irrevocable passing of time being the prime thread that connects Tyler's varied thoughts. After listening a few times, I'm most struck by a feeling of immediacy, the sense that now is the imperative time for action, whether it's to get out of "
A Place I Used To Know
," to stop the clock in the title track, to continue moving "
To Keep From Growing Old
," or to cut the shit and get back to the things we really care about in "
This World Is Moving Slow
." Tyler for the most part avoids cliché when dealing with these topics, and overcomes their familiarity to the listener with an earnest emotional authenticity that always shines through.
Of course, melody and hooks never hurt. Moments like the transition from the chorus "home" to the bridge "home" on "This World Is Moving Slow" come at just the right time, and the restraint and simplicity of a chorus melody like the one on "
When The Day Gets Lonely
" transform and elevate a track that begins deceptively plainly. While we're on the subject, one of my very favorite things about Tyler's recent work is his continuing musical relationship with his fiance, Erin Flood, whose harmony vocals blend with and accent Tyler's lead vocals perfectly, amplifying the emotional power and lifting less memorable songs like "
Sweet Marie
" with enhanced melodicism.
Equally as exciting as Tyler's attention to songwriting and arranging craft are the places where he starts taking risks outside his established field, like when the breathiness gives way for a naked, strong high or low note in the vocals, or on unexpected songwriting experiments. While the textured instrumental arrangements occasionally have me wondering if the same result couldn't necessarily be achieved with fewer sounds, a song like the moodily dark "
Bang On Time
" hangs on its hypnotic bassline, cavernous reverb and multiple guitars, while the album-closing "
We Waited For Everything
" successfully employs a dense arrangement that includes bells, pre-recorded voices, piano and spacious delay to enhance the song's dream theme with subtle psychedelic touches. With today's proliferation of independent musicians and the ease of creating and distributing digital recordings, I often wonder what it takes for good music to finally reach mainstream notoriety--hearing songs like these, it seems like Tyler's starting to tap into even more methods that can distinguish him from the host of other Americana acts out there.
I spend so much time looking for "out-there" artists that deconstruct our fundamental assumptions about music aesthetics that I can forget how equally rewarding more traditional music can be if the songwriting is crafted with minute and loving detail--I look forward to seeing where Tyler takes his rarefied craft with his next release. For now, you can see him live on his solo tour around Oregon and Washington--I'll be at
Nectar Lounge to see him this Friday
!