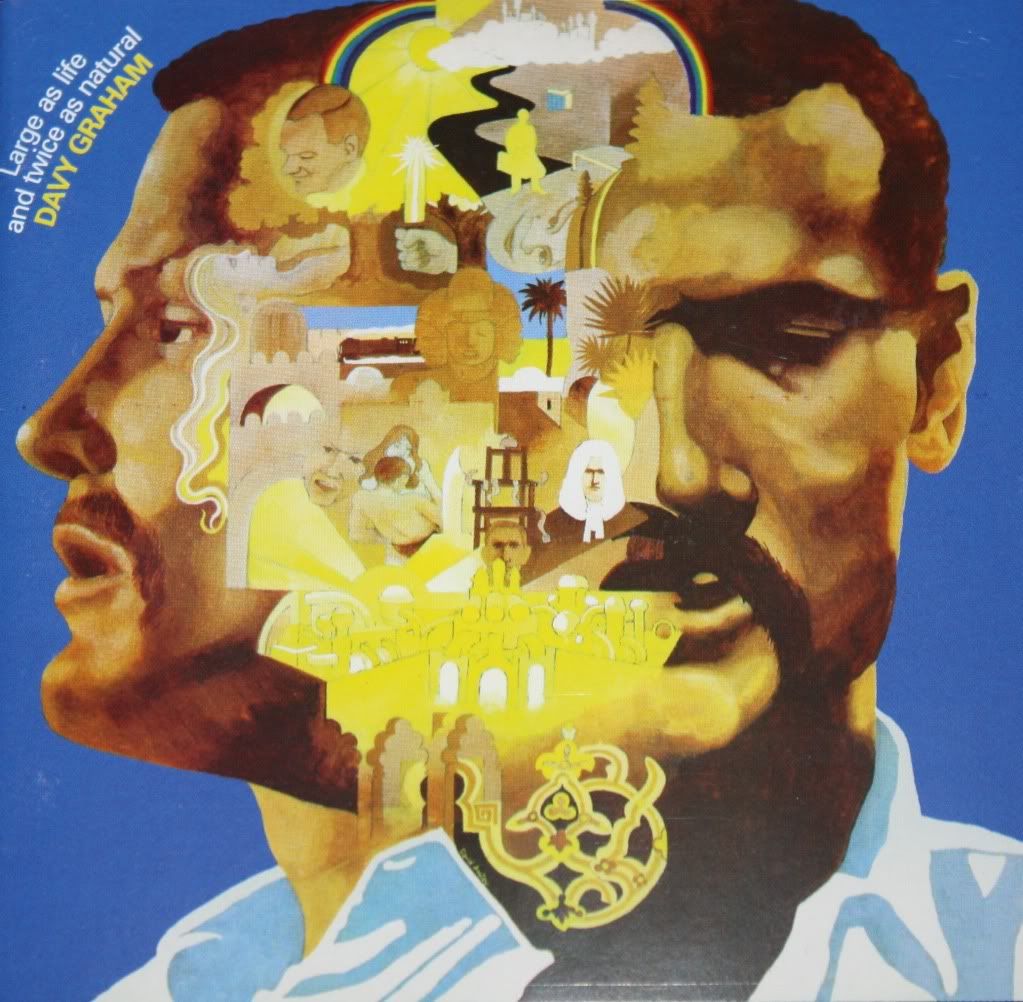 Time to turn our probing ears to another unjustly-overlooked guitarist. Today, few have even heard of Davy Graham, but he's unanimously considered "important" by those who have--a host of better-known performers and guitarists are quick to drop his name (Bert Jansch, John Renbourn, John Martyn, Paul Simon, Ralph McTell, Roy Harper, Jimmy Page, Martin Carthy, the list goes on...) as the most adventurous and eclectic guitarist of the early 60's English folk revival, yet his actual work remains painfully obscure (though thankfully currently in print).
Davy Graham's fourth LP,
Large As Life and Twice As Natural
(genius title!) presents equal justification for his esteemed reputation it does evidence for his failure to achieve commercial success. The solo guitar "Tristano" reveals Graham as a virtuoso of the truest stripe, capable of seamless transition between (or simultaneous juggling of both) rhythm and lead parts, while the song itself fuses jazz, blues, folk and middle-Eastern modalities in a way that nobody in the mid-60's could have even imagined. That's how Davy is usually described by the converted--a loner whose penchant for world-traveling gave him an untouchable breadth of experience which, combined with his seemingly boundless imagination and ungodly chops, meant he was fusing Irish folk songs with Indian ragas and Eastern-izing obscure blues songs (by all accounts he invented DADGAD guitar tuning) while his later followers were aping Anthology of American Folk Music standards and worshiping Dylan. In reality, though, very little of Graham's recorded output consists of solo guitar, which I think might have played a role in his commercial difficulties.
More representative of Davy's standard MO would be his expansive reading of classic British folk song "Bruton Town," where the guitar flits jazzily around the traditional melody, refusing to adhere to traditional folk rules. Graham's voice is probably his greatest limitation--not bad (I actually enjoy it) but certainly not traditionally "beautiful" or as marketable as his guitar abilities. Likewise, "Both Sides Now" is a revelatory opener--its languorous, modal opening makes you wonder if this is actually the same "Both Sides Now" you thought it was, then BAM! The bass and drums kick in and Davy presents us with an uncannily energetic and imaginative reading of Joni Mitchell's oft-covered standard. The cacophonous rhythm section ably handles the eclectic mix of styles present here (Pentangle's Danny Thompson has got to be one of the best session bassists of the time period), bringing lots of ethnic flair to the Eastern songs (the major-key "Sunshine Raga" and minor-key "Blue Raga," as well as the hypnotic "Jenra") and provide a suitably grinding bottom to the blues numbers ("Freight Train Blues" has some awesome cymbal work and Davy's singing is pretty rocking).
The whole album feels like it was recorded live (there are plenty of vocal imperfections and loose improvisation to attest to this observation) and the sound is great--nobody else's guitar sounded like Graham's. The commercial flaws of the albums can be seen a mile off, though--it's neither folk (too experimental and eclectic) nor folk-rock (too jazzy and accoustic), and it's got nothing to do with psychedelia (apart from the delirium-inducing guitar excursions), which was the rage in 1968--how do you market that, and to whom? Perhaps Davy's eclecticism became his career's undoing (deliberately becoming addicted to heroin in order to emulate his jazz idols probably didn't help either) but for me it's the best thing about him--you never know where the next song is going and his playing is full of surprises both compositionally and technically. Here Graham might not quite fuse as many genres within the same song as he does on
Folk, Blues and Beyond
, but it's a fine representation of his style and contains some career highlights.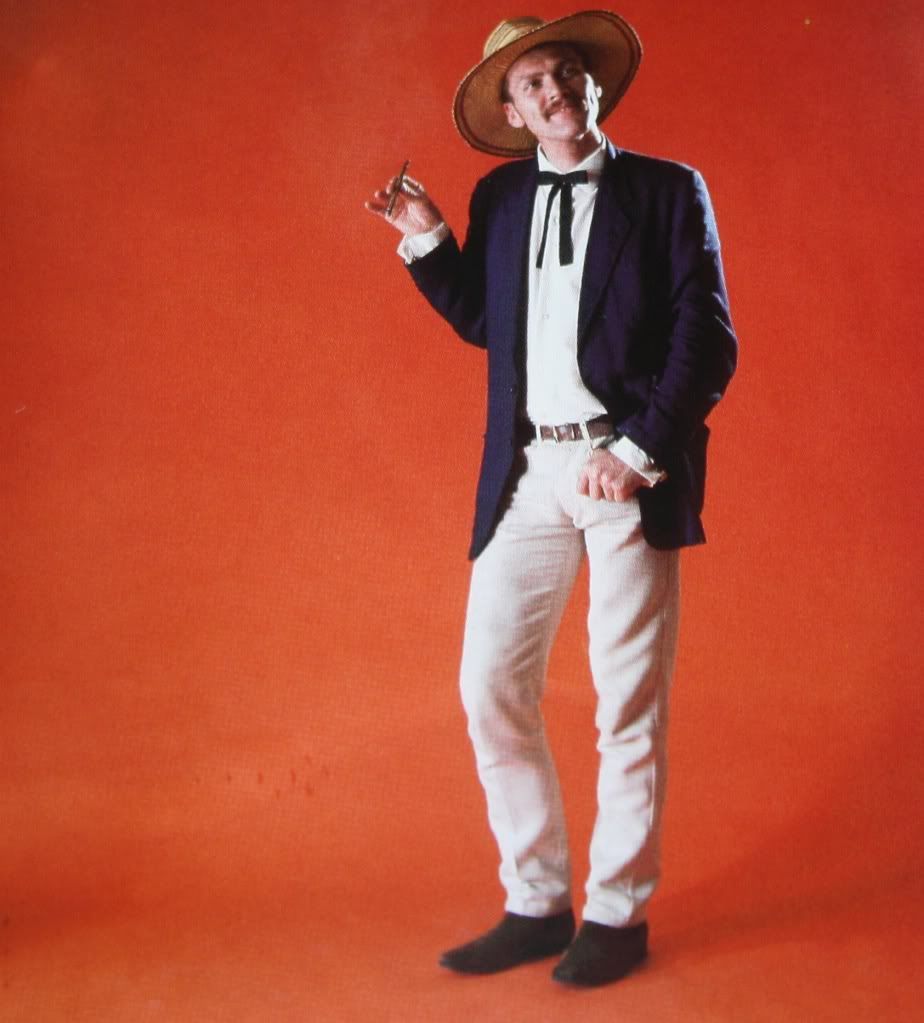 I couldn't resist including this shot from the album notes--what a cigarillo-smoking, big straw hat-wearing ladies man. Thanks Davy.
Get the CD here
.