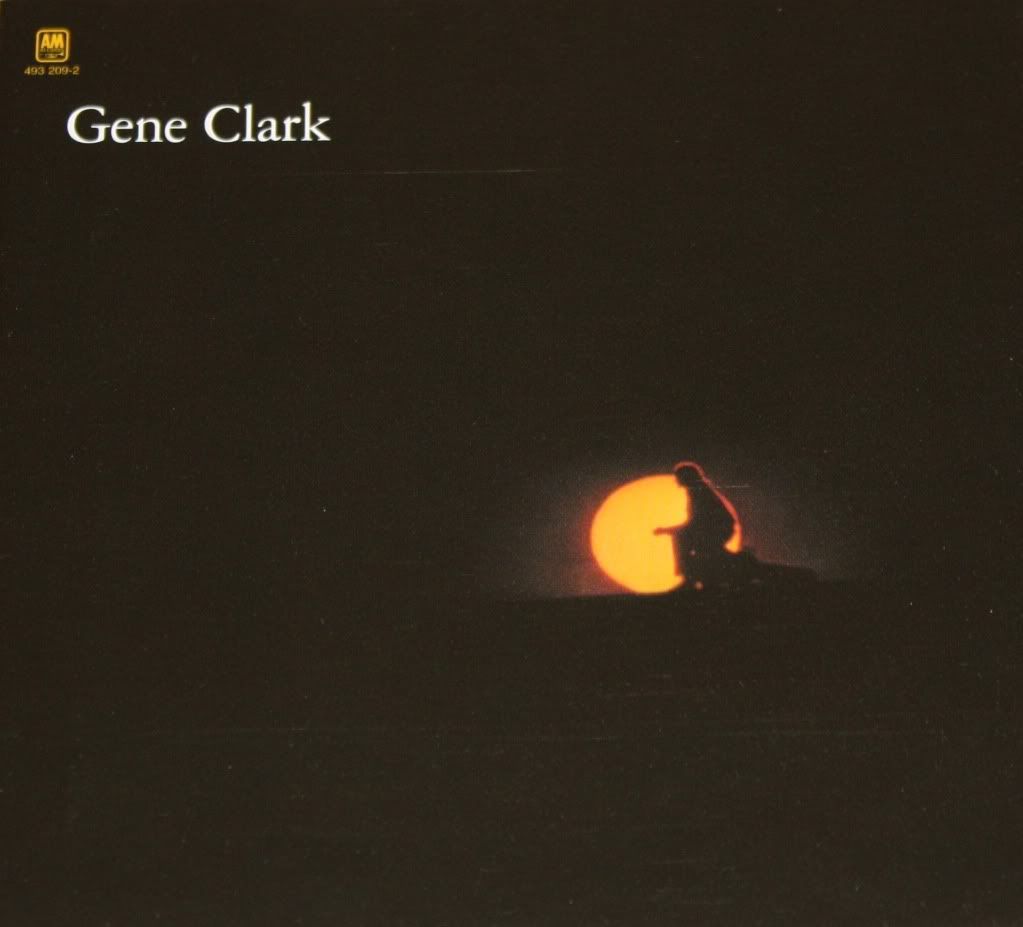 This album is probably one of those to which I've become too close to properly review. I've listened to the whole thing upwards of 35 times, according to iTunes, to the point that the songs are totally ingrained into the fabric of who I am. Like Linda Perhacs'
Parallelagrams
, I still remember the first time I listened to it about five years ago, sitting there still on my bed, not doing anything else. 40 minutes seems like a long time when you're just sitting there focusing on an album you've never heard before, and I remember thinking "Huh," when the album finished--neither impressed nor displeased. That's the beauty of Gene Clark--it's a "huh" the first time you listen, then gradually it's an "oh my god this is awesome" as the plays increase. I know some
No Other
fans find this album boring, but I can't see why, other than that the instrumentation is less ornate and there's perhaps a little bit less drama.
To me, this album is perfect singer/songwriter, through and through. Gene's voice is so achingly plaintive, his words are deceptively simple the mood is meditative, and the playing is ear-catching enough to reward attention but never overshadows the songs. A lot of the credit's probably due to producer/guitarist Jesse Davis, whose subtly deft, wrinkled arrangements reward multiple listens and whose slide guitar backs many of the tracks with the slightest bit of muscle.
The love songs here are tough to match anywhere--"With Tomorrow," just Gene and his guitar, subtly slays, with Clark imortally intoning "it was more like a dream than reality/I must have thought it was a dream when you were here with me" that marks the maturation of the "less-is-more" ethos that made "I'll Feel a Whole Lot Better" the best Byrds song on record. Likewise, the slow-burning "Because of You" is pure emotion, founded on a subtly catchy guitar riff and lifted into the clouds with some atmospheric organ work.
My favorite tracks, though, come from Clark's more inscrutable side. That Gene Clark was a mystic I have no doubt--it's pretty clear from
No Other's
torturous catharsis--but here we have an even quieter type of probing the beyond. The rapturous "White Light" portrays the mystical experience like some sort of back porch hoedown (my heart always pounds when he joyously calls out "white light"), while the waltzing "For A Spanish Guitar" finds Gene in the ages-old struggle between a man's sense of self and...
everything
else. The most glorious thing about this is it's not a description, not an explanation--it's just Clark expressing this quiet, ineffable combat as if he were just talking to himself (we'll forgive him the misuse of the word "whom"). To me, the album's production mimics the same ineffability--just the way it
sounds
feels so good (seriously, the opening five seconds are like a gust of warm air).
The album ends with a Dylan cover (ironic, considering that the music could easily be described as "Dylanesque" but that it also transcends the trappings of Dylan's writing style) and the entirely impenetrable rocker "1975;" I've talked with a few people who find this album boring--so it may be, but such a judgment should be made after at least a few close listens. I don't think I've ever been bowled over by a Gene Clark album on first listen, but I can think of at least three that will remain safe in my cold dead clutches. For those of us with sympathetic tastes,
White Light
is an unassuming masterpiece of form and performance and a lifelong companion.
Get it here on CD or MP3
, with bonus tracks.