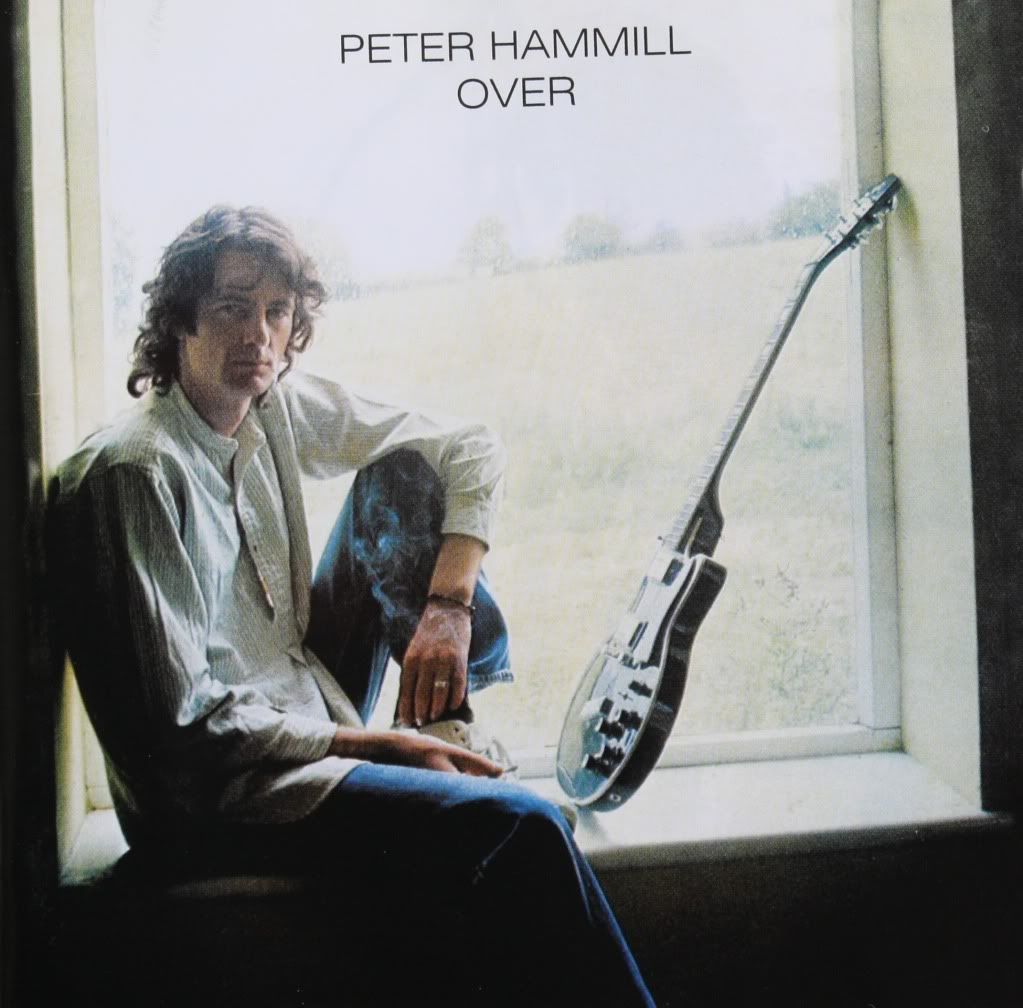 Over
is probably the Peter Hammill album that's received the most mainstream acclaim, a fact which is aided in no small part by the fact that it's the ultimate breakup album. A fair number of critics (ah, the critics) praise Hammill's move from sci-fi existentialism to a more "mature" interpersonal lyrical bent. This riles me for a number of reasons, chief among them being popular music's oversaturation with trite lyrics about love and breakups, and the fact that Hammill's earlier solo and
Van der Graaf Generator
works act as a cleansing and inspirational alternative in their passion and fascinating depth. All value judgments regarding lyrical subjects aside, though,
Over
succeeds in spades at examining oft-repeated material from a fresh perspective and an honesty that makes it seem like the first breakup album ever made.
What I really love about this album is how hard on himself Hammill is--sure, there are the shallow accusations and laments that plague every breakup song, but they always sit side-by-side with Hammill's barbed, self-directed insults and self-blame. This isn't merely a self-pity party, it's a man wrestling passionately with his mistakes in a vain effort to rise above his own faults. In this way,
Over
takes the breakup beyond musical clichés--reminding us all that we're ultimately responsible for our actions--and lifts it to a level of psychological accuracy that most resembles the actual
experience
of an awful falling-out of any attempt that I've ever heard on record. The emotions on this album bounce between self-pity, self-loathing, finger-pointing, outward blame, pure sorrow, confusion, anger, regret, betrayal and longing--just like you feel when a relationship disintegrates. This turbulent stream of consciousness spans almost all of the songs (excepting the parent/child-themed "Autumn," and perhaps the ghostly "This Side of the Looking Glass," which mostly conveys despair); they could easily be strung together as one long internal dialogue. That's not to say the songs sound samey--there's just an extremely cohesive mood.
Musically, there's much more demarcation. Hammill's voice has filled out a little since the early 70's, though he's still capable of formidable rasps and pitch-perfect falsetto; he sounds great. The song styles run the gamut from rockers ("Crying Wolf") to brooding acoustic numbers ("Alice [Letting Go]" and "[On Tuesdays She Used to do] Yoga") to lush, string-backed ballads ("Autumn" and "Betrayed" are like some kind of fucked-up version of Colin Blunstone's
One Year
) to extended, multi-part progressive suites ("Time Heals" and "Lost and Found"). Hammill's songwriting skills are in full force, and the changing instrumentation and dynamics perfectly suit his inner battles. In the end, just like in real life, there's no true resolution--just the promise of new love and a hope that history won't completely repeat itself.
My only complaints about
Over
pertain to Hammill's instrumental prowess (here I'm suddenly wishing for Roy Harper's guitar abilities and
Death or Glory?
, my second-favorite breakup album)--if ever there were a musical visionary whose instrumental limitations necessitate compensatory collaborators, it'd be Hammill. He comes up with fine riffs and guitar and piano figures for his songs but too often stiffly plays too many instruments by himself when his songs' creative turns are begging to have their ideas fleshed out by a more skilled guitarist and/or keyboardist--probably why Van der Graaf Generator worked so well. Really, though, it's a minor issue as this album is a towering masterpiece of song, mood and evocation of one person's intense experience.
Over
is far too complex of an album to do justice to in a few paragraphs; it's gnarled, circuitous and achingly beautiful (often in its ugliness)--time to just listen to it.
Get it here on CD
, or
here on MP3
.